** IMPORTANT COVID-19 INFORMATION **
Sadly, due to Coronavirus all of our church buildings are temporarily closed.
However, we continue to serve our communities in new ways.
Prayer, worship and practical support is continuing online and over the phone.
Need to talk? It doesn't matter if you normally attend church or not, we are here for you. If you would like to speak to someone about how you are feeling, or if you need help, please do get in touch.
To get in touch please call the Vicar on 01822 870298 or email: vicar@southtamar.church
Pray As You Go is a daily prayer session, designed to go with you wherever you go, to help you pray whenever you find time, but particularly whilst travelling to and from work, study, etc.
A new prayer session is produced every day of the working week and one session for the weekend. It is not a 'Thought for the Day', a sermon or a bible-study, but rather a framework for your own prayer.
Lasting between ten and thirteen minutes, it combines music, scripture and some questions for reflection.
https://pray-as-you-go.org/home/
---
The South Tamar Mission Community
'to grow in prayer, to make new disciples and to serve the people of Devon with joy'
Welcome to the website for the South Tamar Mission Community. Please look at the About us page to read a little more about who we are. New information will be added to the website weekly.
For details of our forthcoming services and events please go to Our Services or What's on
---
The Bishop of Exeter has taken a tour of his garden to illustrate the Diocese of Exeter's four key aims for 2019.
In the video Bishop Robert outlines plans to help churches reach out to: children and families, young people aged 17 to 25, people over 55 and those on the fringes of church.
The four aims build on the diocese vision to: Grow in prayer, Make new disciples and Serve the People of Devon with joy.
So please do watch Bishop Robert take us on a tour of his garden to explain the four Diocese of Exeter aims for 2019 alongside interviews and footage of some of the amazing work being done by churches in Devon - Enjoy :-)
---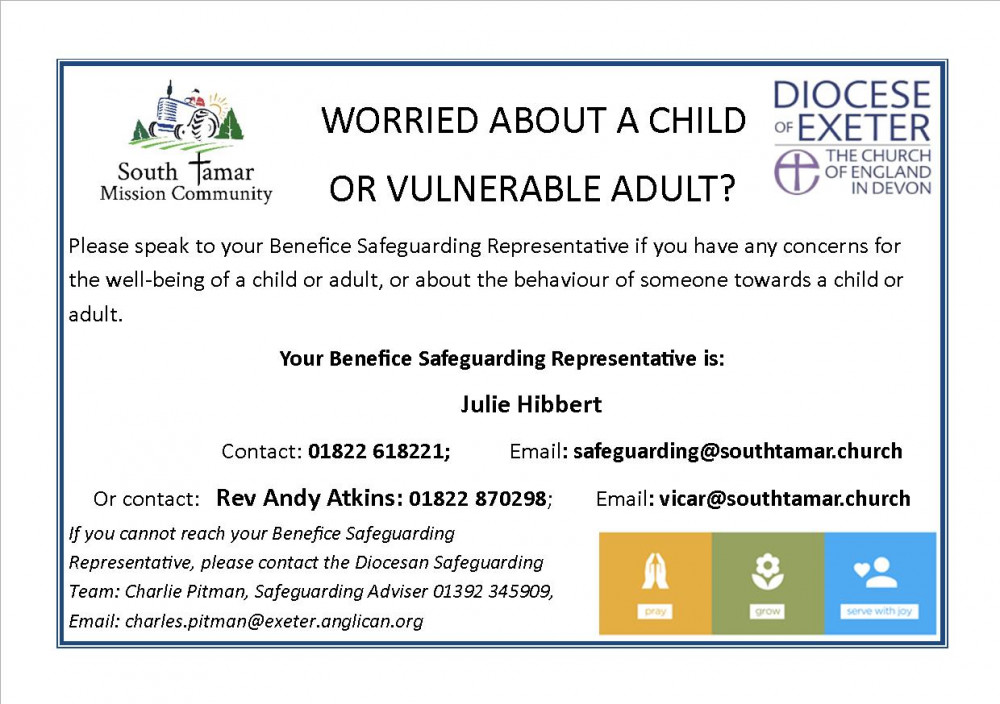 Please clich here for more information, including our own Benefice "Safeguarding Policy",along with our Diocesan "Parish Safeguarding Handbook".